Regular price
$143.20
Sale price
$44.95
Unit price
per
Sale
Sold out
100% Brand new & High quality
Sphere Ball Material: Natural Septarium/Septarian
Septarian
Healing vibrations • Patience• Endurance
Septarian is a combination of Calcite, Aragonite, and Chalcedony. It connects to devic energy, which thereby encourages taking care of the earth. It can be used to enhance the cohesiveness of any spiritual group. Within drumming and chanting circles, it focuses the healing vibrations.
Septarian Meaning & Healing Properties
Spiritually, Septarian brings illumination by harmonizing the emotions and intellect with the higher mind.
Emotionally, Septarian is calming and nourishing. It is useful for self-nurturing as well as for caring for others. For Healers, meditation with Septarian can provide insight into the cause of dis-ease.
Mentally/Psychologically, Septarian is a joyous stone that instills patience, tolerance, and endurance. It provides support while birthing ideas, expands your creativity, and then helps to manifest your ideas into reality. Septarian enhances your ability to communicate in a group, and is especially helpful for public speaking.
Physically, Septarian detects and rebalances blockages in the body. It is helpful in focusing the body's healing ability and facilitates flexibility. Additionally, it is beneficial for seasonal affective disorder, skin disorders, cellular memory, and metabolism. It reduces swelling and growths, and supports the intestines, kidneys, blood, and heart.
Our customers love it :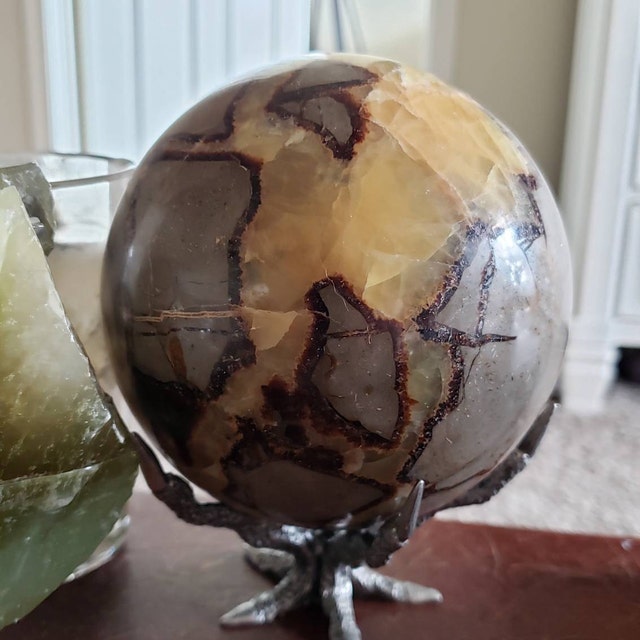 Available to be purchased by PayPal, Credit/Debit Card.
Choose your quantity and hit the ADD to CART below till the supply lasts!
Delivery time: 15-40 business days (package registered)
WITH EVERY PURCHASE, YOU MAKE A DIFFERENCE.
We're thrilled to support DonorSee - an amazing humanitarian crowdfunding platform helping people in the world's poorest countries.
View full details